"Todo mortal..."
[All mortal...] - Gustavo Adolfo Bécquer, Andalusian post-romanticist writer
This is how I spent ten days in July 2008. It was one of the most amazing holidays in regards to party, fun, nightlife, and dancing.
Ibiza is a tiny 571 km² (220 sq mi) Balearic island off the mainland Spanish coast of Valencia. I never had the opportunity to vacation there, even though it was so close to Barcelona.
I first heard knowledge of this party paradise when I was eleven. There was a song my older friends were playing on their boom box, which had a pulsating bass line and angelic lyrics. It was the moment in which I felt like I was soaring. They had acquired a mixed tape from a schoolmate who summered on the island and played it nonstop. I knew one day I had to answer the siren call of the intoxicating serenade.
Fast forward to April 2008, when I was chatting with a friend of a friend about our backgrounds while waiting to eat supper with our mutual friend. I informed him of my musical tastes, and how most of my friends currently were not interested in the trance or house subgenres. He commented how techno is not too popular in Alaska, so he loved traveling to Europe and experiencing the nightlife. He inquired as to what DJs I favored, I mentioned how I just downloaded Tiësto's released
In Search of Sunrise: Ibiza
. One amazing album, with a remix of Imogen Heap's
Hide and Seek
. I had been a longtime fan of him, ever since the Delirium's
Silence
remix.
Him: "Oh that's funny, my old friend and I are meeting in Ibiza this July.
Me: "WHAT THE BISCUIT! I've always wanted to visit Ibiza, ever since I was a little kid [told the story above.]"
Him: "Well, we were looking for another guest to split the apartment we're renting."
Me: "!!!!!!!!!!!!!!!!!!!"
Him: "So are you interested?"
Me: "...I think I'm on the verge of vomiting."
Him: "Do you need a trashcan?!"
Me: "NO SORRY I JUST BARF WHEN I AM SUPEROVERWHELMEDANDHAPPY."
I commenced research on all the clubs I would visit. One little blurb forced me out of the computer chair and fist pump around the office. My coworkers turned and sat slack jawed as I performed cartwheels.
"Tiësto will be hosting a two month residency at Privilege, Ibiza in summer 2008."
I send text messages all my friends who enjoy electronic dance music immediately. Some responses were supportive, saying how lucky the situation turned out. Others, the ones I rather enjoyed, were the 'U SUK' and 'UR MOM IS AT IBIZA.' Who doesn't appreciate a verbal lashing in the face of awesome news?
Fast forward three months, my travel mates and I were being jostled through security at Privilege. According to the Guinness Book of Records, the largest nightclub stood before me. Impressive jetliner size. Spotlights and flashing lights everywhere. So many costumes, gorgeous girls in see-through spandex, and glow stick anything. Guards were shouting "¡no cámaras!" and "¡boletos, por favor!" Not a soul could stop grinning, teeth blazing white in the influence of black lights.
Inside after almost losing my sanity of pushing through thousands of clubgoers, it was hard to believe the space occupied by Privilege. A 25 meter ceiling, exotic plans everywhere, walls of speakers and amps, stairs leading to balconies, and a swimming pool under the main dance floor. It could host up to ten thousand people. It seemed the population of Ibiza had converged under its aircraft carrier roof. One couldn't even see the main stage from the entrance.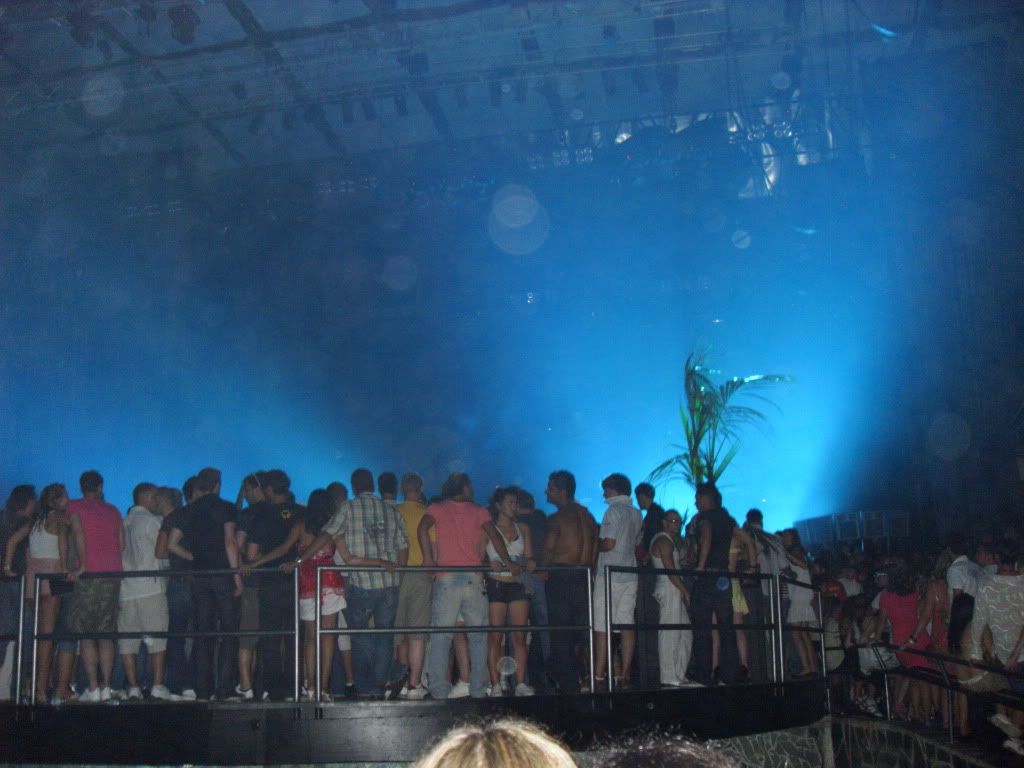 Of course, it was difficult to take a stable photo with the right settings with security guards roaming the floor.
After an hour of being navigated by the surging array of sweaty patrons, we managed to maneuver close to the stage. Tiësto started a cover of The Fray's
How to Save a Life
. To say it was breathtaking would be an understatement. After the second verse, he turned off his beat and suddenly thousands of individuals are singing as one, hands held high and inspiring Tiësto lift his fist skyward as our voices echoed through the now bass-less club.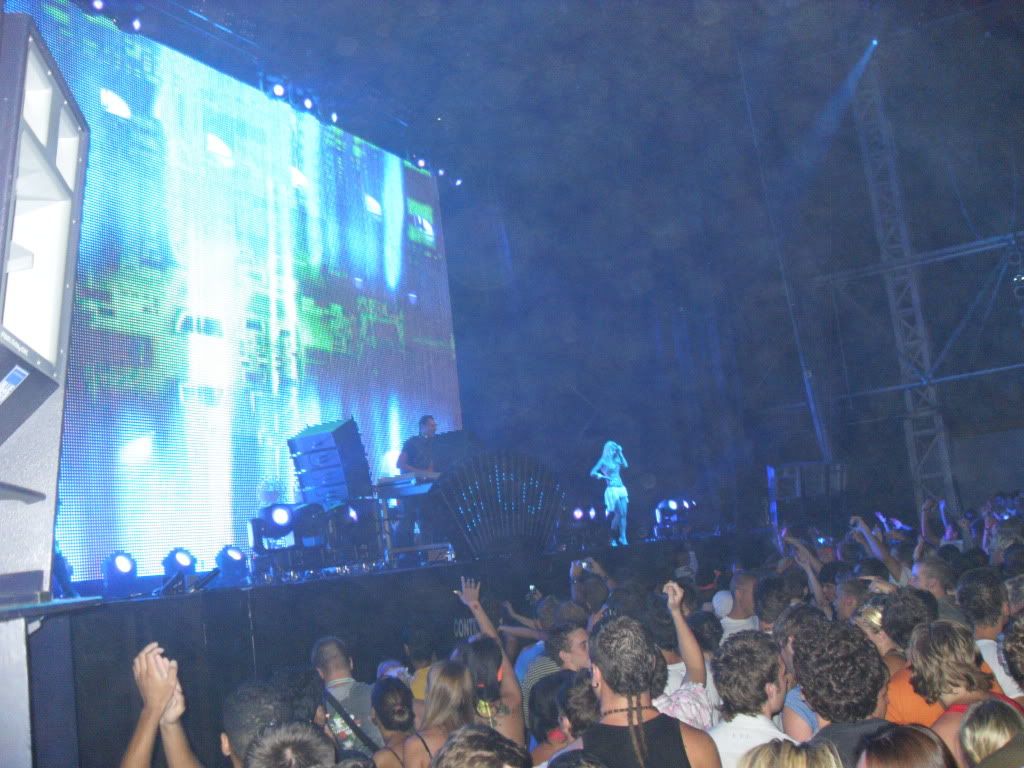 Goosebumps covered my flushed person. The cheers and hollering lasted five minutes. Tiësto looked unbelievably flattered and pleased, even a little embarrassed, at the reaction. His humble demeanor clashed with his heavy hits of Tegan and Sara's
Back in Your Head
and the Cary Brother's
Ride
, the execution of which showed why he was the first DJ to perform at the Summer Olympics. The dance floors were stocked full of glow stick wielding dancers and electronic music advocates swayed in the stairwells.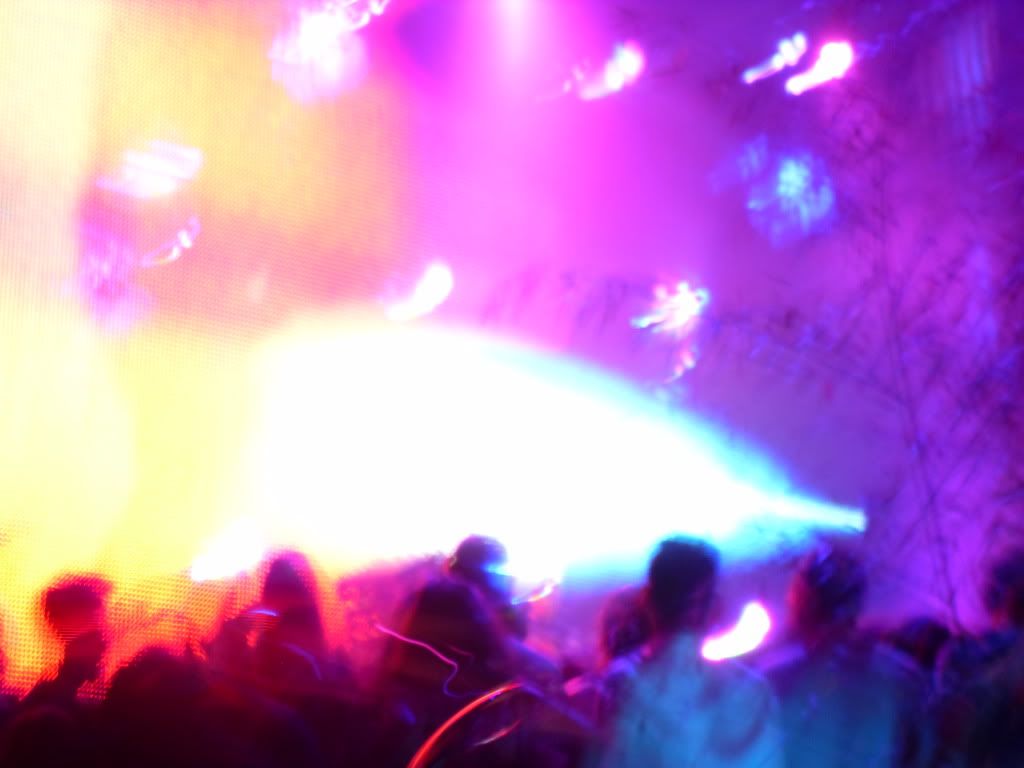 At this time my group decided to head outside for some refreshments and cooling night air. I noticed the walls were covered in condensation and all the glass looked as though Jack Frost had kissed the windows. Standing in line at the water booth, we were four patrons back when I heard the opening bars of a song I played on repeat since April.
I rushed inside and stood on a balcony, the mass of club goers literally multiplied and soon there was no moving. Everyone seemed to be a fan of Justin Timberlake's
Lovestoned
remix. I panned to the crowd and then back, finally shutting my digital camera off so I could let the sensation of the words wash over me.
Impressively, I never saw any fist fights or someone not taking pleasure in Privilege. Over and over in my swimming mind, I couldn't believe how lucky I was, to be there in that moment. I never felt so alive. Euphoria and adrenaline coursed through my veins. Strangers from different lands and nationalities were dancing with each other and trading glow sticks. Everyone was sharing water and juice, one loving network of club aficionados.
Finally, we shuffled our tired bodies outside after three encores, our eyes bleary from the assault of neon lights. Sounds were muted and the sun was just peaking over the Mediterranean Sea. I then fully grasped the message conveyed by Tiësto.